In this series of blog posts I'm going to show you how to do the initial setup of your Raspberry Pi over your home network. That is to say, without the need for your pi to have its own keyboard and monitor (headless). This tutorial is for those running Ubuntu Linux on the computer connecting to the pi, but the steps are very similar if you have some other Linux distribution (or different operating system).
Hopefully, all the bits you need have turned up (see my previous post o Buying a Raspberry Pi), else you're going to struggle a bit. As well as your pi, you will also need a computer that has a SD card reader and is running Ubuntu, an internet connection and a spare network socket (either on the Ubuntu computer itself or on your router/network switch).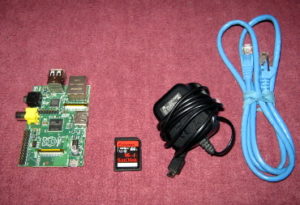 I'm going to assume you have the Raspberry Pi model B board (the one with the network socket), as this is by far the most common option, but if you have the model A board, just plug a compatible ethernet adapter into the USB port and everything will be the same (Nb this probably won't work with a wireless adapter, as it would need to be able to connect to the correct wireless network before you have configured it.)
I'll go into a bit detail about the commands we are going to run so you understand why we are doing what we are doing. You don't need to know this stuff, but I think it's interesting, so I'm going to tell you about it anyway!
Once the pi's basic setup is done, you can then check out my other blog posts to learn how to turn your Raspberry Pi into a NAS/fileserver, media centre, dlna server and/or football playing robot!